DIY wedding flowers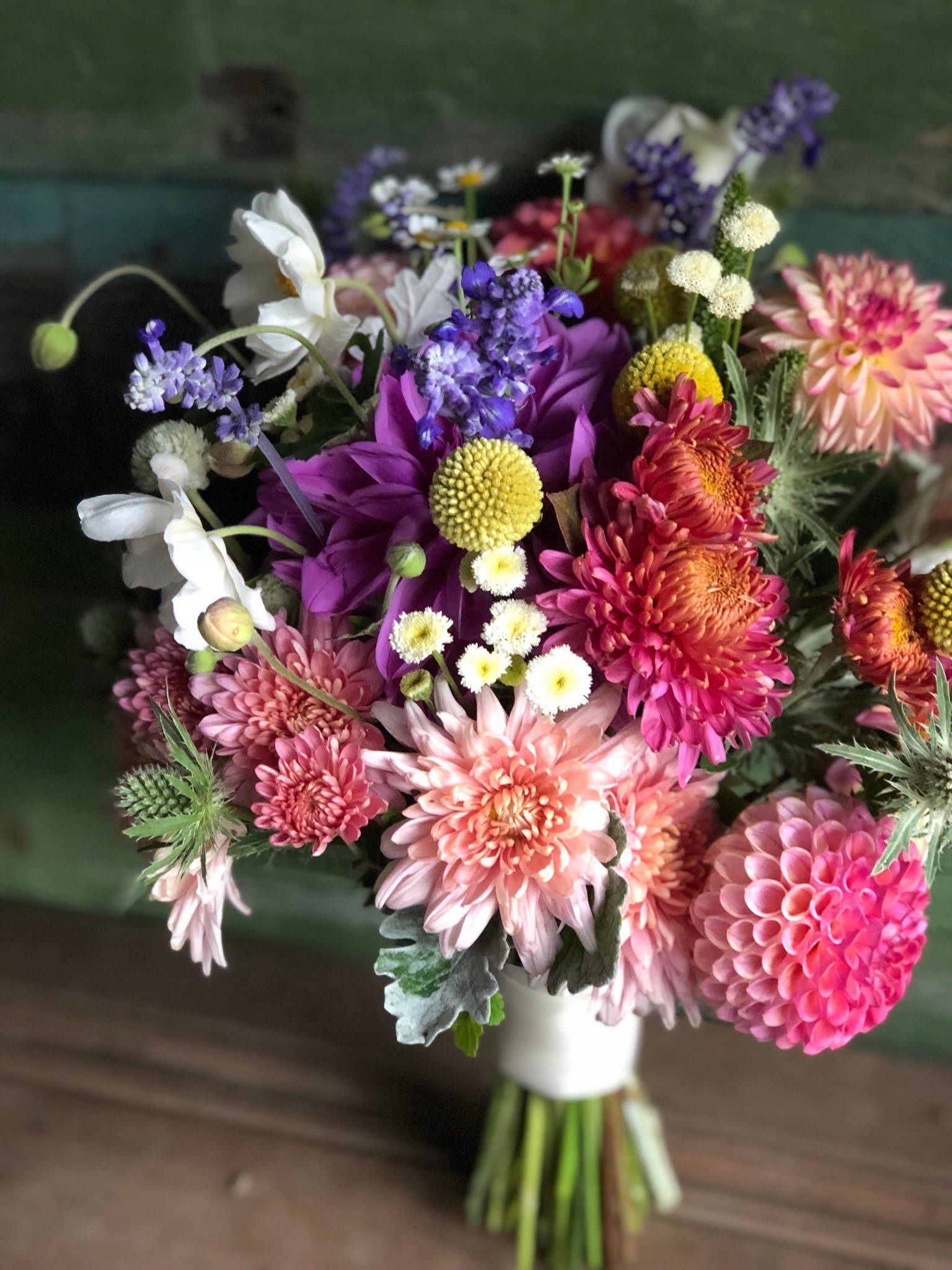 My husband and I met while working at a hotel that did assembly-line weddings. I was a banquet waitress and he was a bartender and most weekends we'd work at least 1 or 2 or even 3 wedding receptions in a row. This was not a nice, historic hotel, mind you. It was a chain hotel with bad food and tired decor. It was the era of the Electric Slide and the Macarena!  Needless to say, when we decided to tie the knot a few years later we knew what we didn't want: a wedding that in any way resembled our former place of employment.
So we got married under a tent in a local park, hired a natural foods chef caterer, served up craft beer and special wine, and a local farmer who my future mother-in-law knew from church did our flowers!  We were before our time! To be honest, we went this route because we hated the pre-planned package wedding places, but also because we had NO MONEY. I was a public school teacher in North Carolina at the time. My husband worked in a photo lab. We were pretty poor. Our parents helped us a little, but there were limits to their generosity. Our wedding was done on a serious budget.
I tell you this story because I understand and empathize with the folks who are budget conscious about their wedding. I really do! This is one reason why people go the DIY route: to save a little money.
But not everyone chooses the DIY option because of finances. Flowers are something people think they can DIY – unlike the venue or the catering or the cake or the dress. DIYing flowers is fun! Plus, it makes things a little more personal. If you have the time, energy, and enough people, it can be a special experience.
Good news: I'm happy to help you with this! I don't mind doing "just" personals. I don't have a minimum spend. I actually love to sell you buckets of flowers so you and your friends can create your own centerpieces.
That said, in my opinion, the best DIY situations I've been involved with have been what I call "hybrids."  You hire me to create the personal flowers, and you and your friends and family do the centerpieces.
Here's why I think this is the best approach: unless you (or a close friend or family) have real experience creating bouquets and boutonnieres and creating arch installations, you should hire someone who knows what they are doing to create these items for you. Do not underestimate the time, expertise, and skill it takes to create even a "simple" bouquet. The personal flowers and the ceremony flowers are going to be front and center in every single photo. Are you hiring a professional to take the photos? If yes, then you need to hire a professional to do the flowers that will be in the photos.
Here's how these hybrid wedding situations work: folks have me do the personal flowers (bouquets, boutonnieres, corsages, crowns, etc.) and perhaps the ceremony decor (an arch installation or a garland), and then they and their friends do the centerpieces. This works well if you have a group of people and time. This does not work well if you hand it all to your sister in law or your maid of honor an hour before the event. The day before is optimal. The day of can work, but only if there's enough time.
The people getting married – the bride or brides, the groom or grooms – should under NO circumstances do any of this the day of the wedding. Trust me, you have other things to do.
Another thing to consider, besides time: where will you be doing this? Playing with flowers is messy. Transporting vases is a little tricky. Many of our local venues are booked solid for all 3 weekend days, so make sure you check with them if you're thinking of using their space to do any of this work. If the wedding is at 3 and you can't get into the venue until 11 that is really pushing it if you don't have everything done ahead of time.
I have, on occasion, given folks room here at the farm to put their centerpieces together. If this is something you are interested in, we can talk.
Here are some photos of weddings where the couple took a hybrid approach.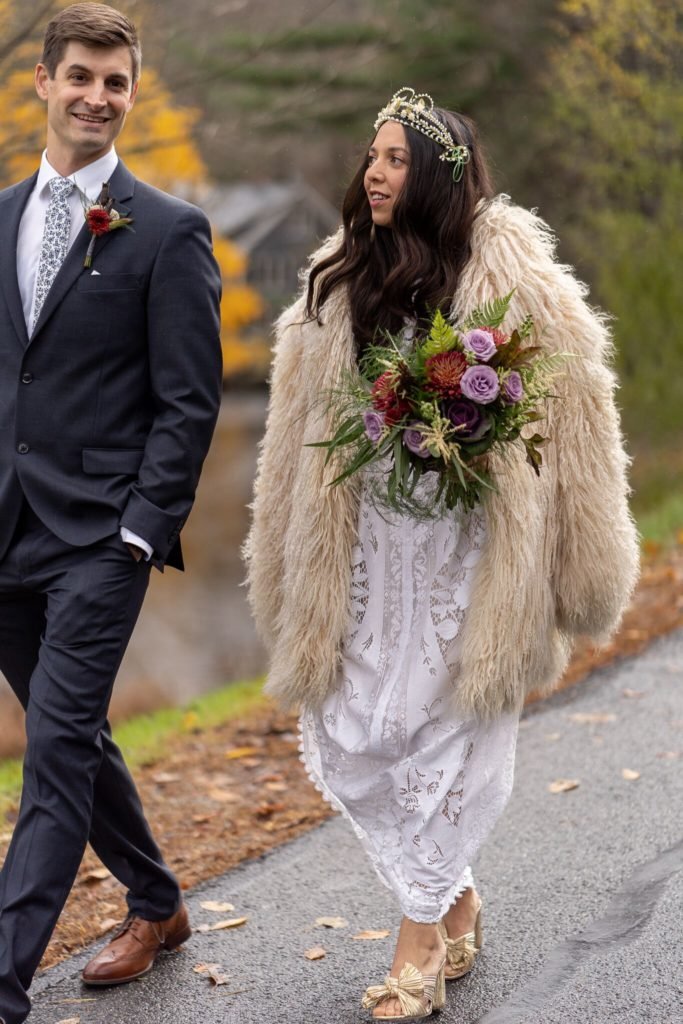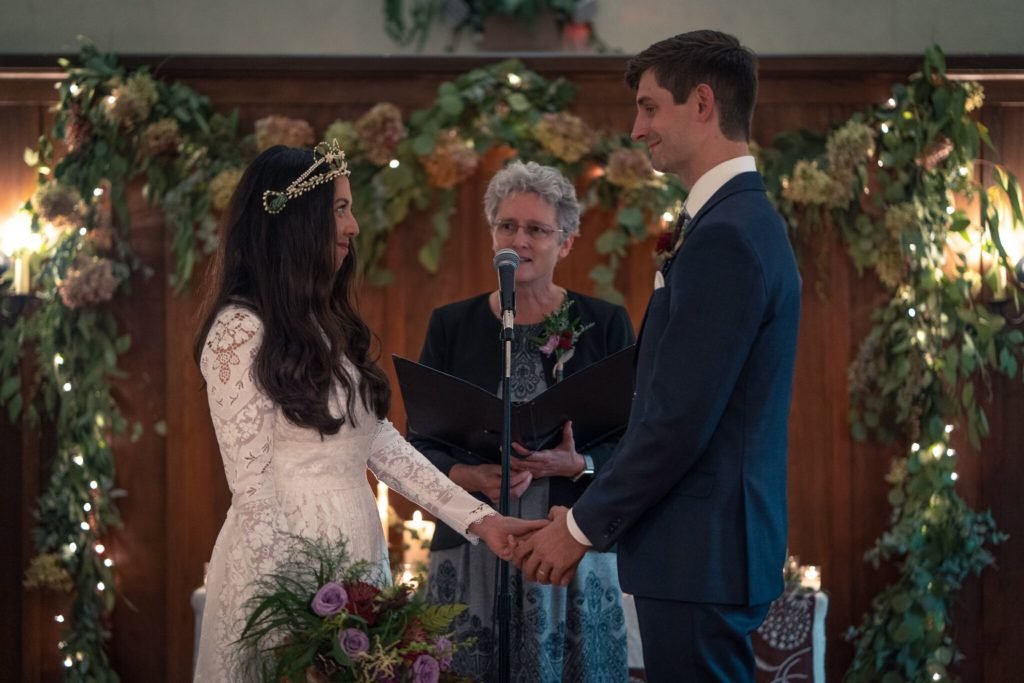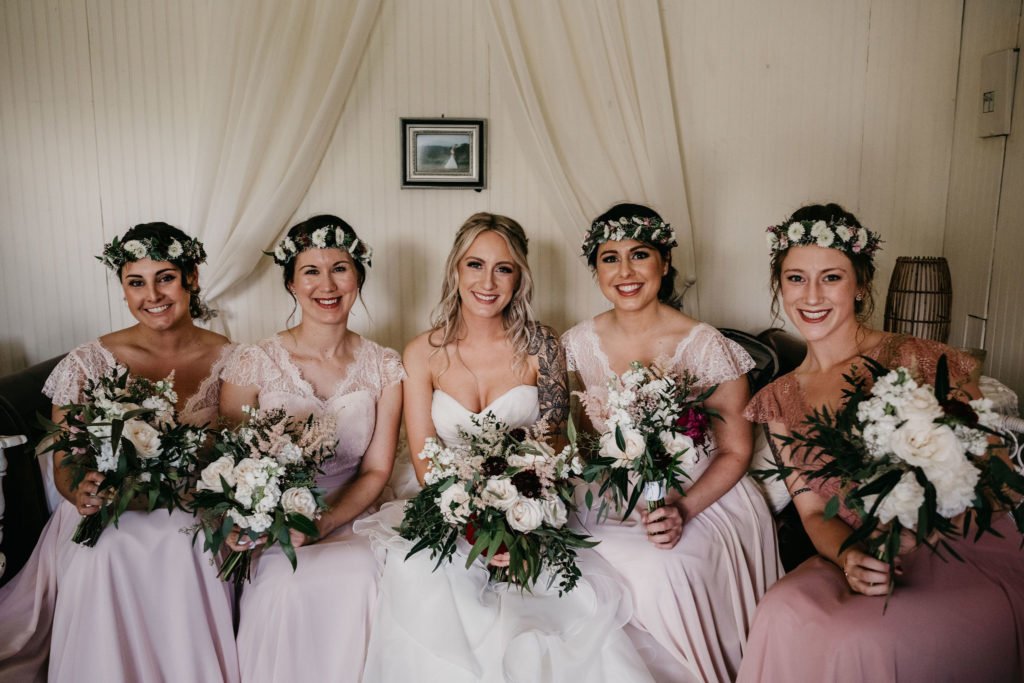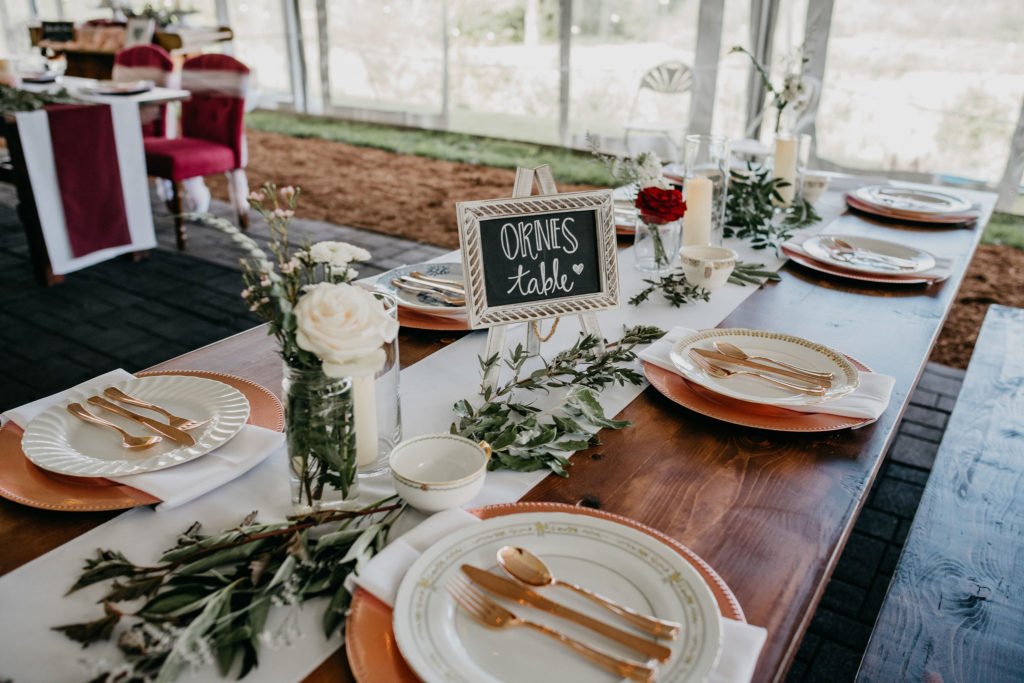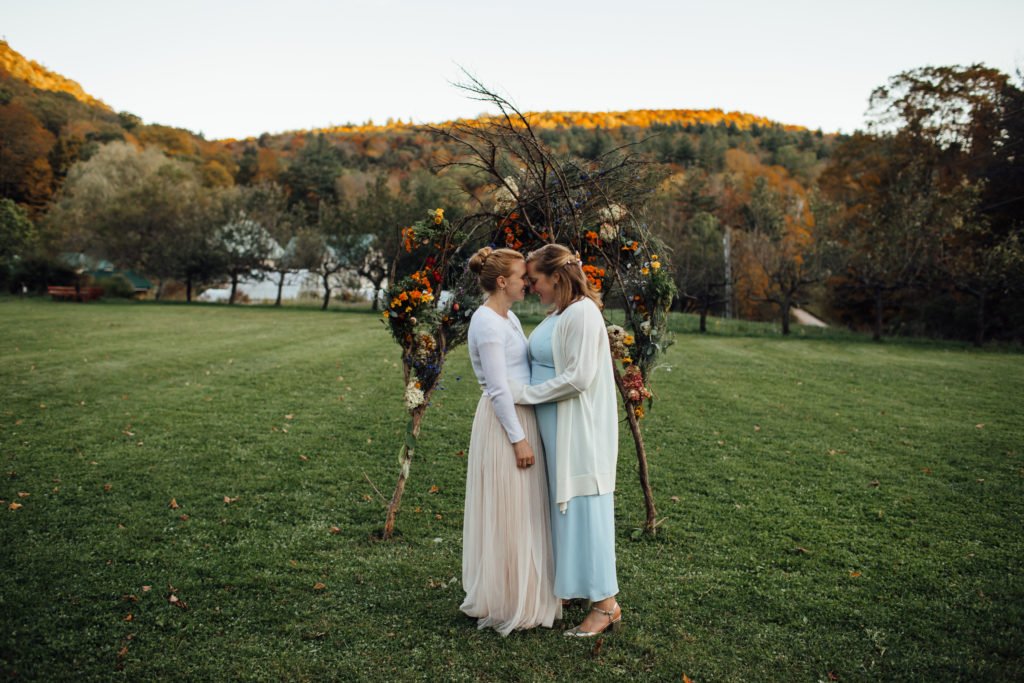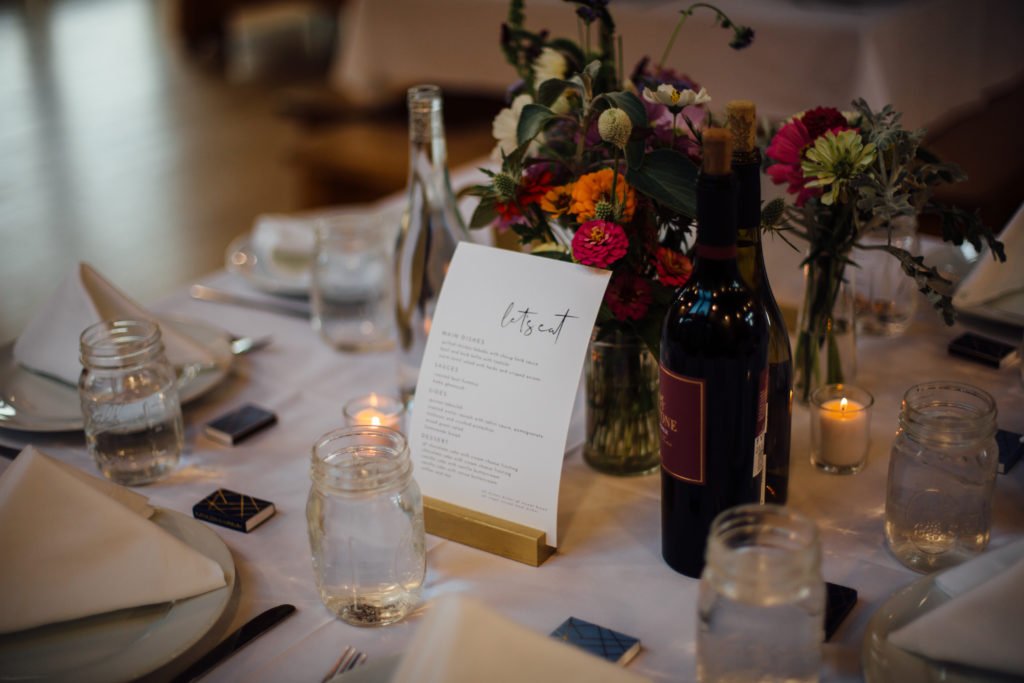 Other hybrid weddings featured on my site:
…and check out my Instagram feed for other photos.
---