2024 Full Service Wedding Flower Price Guide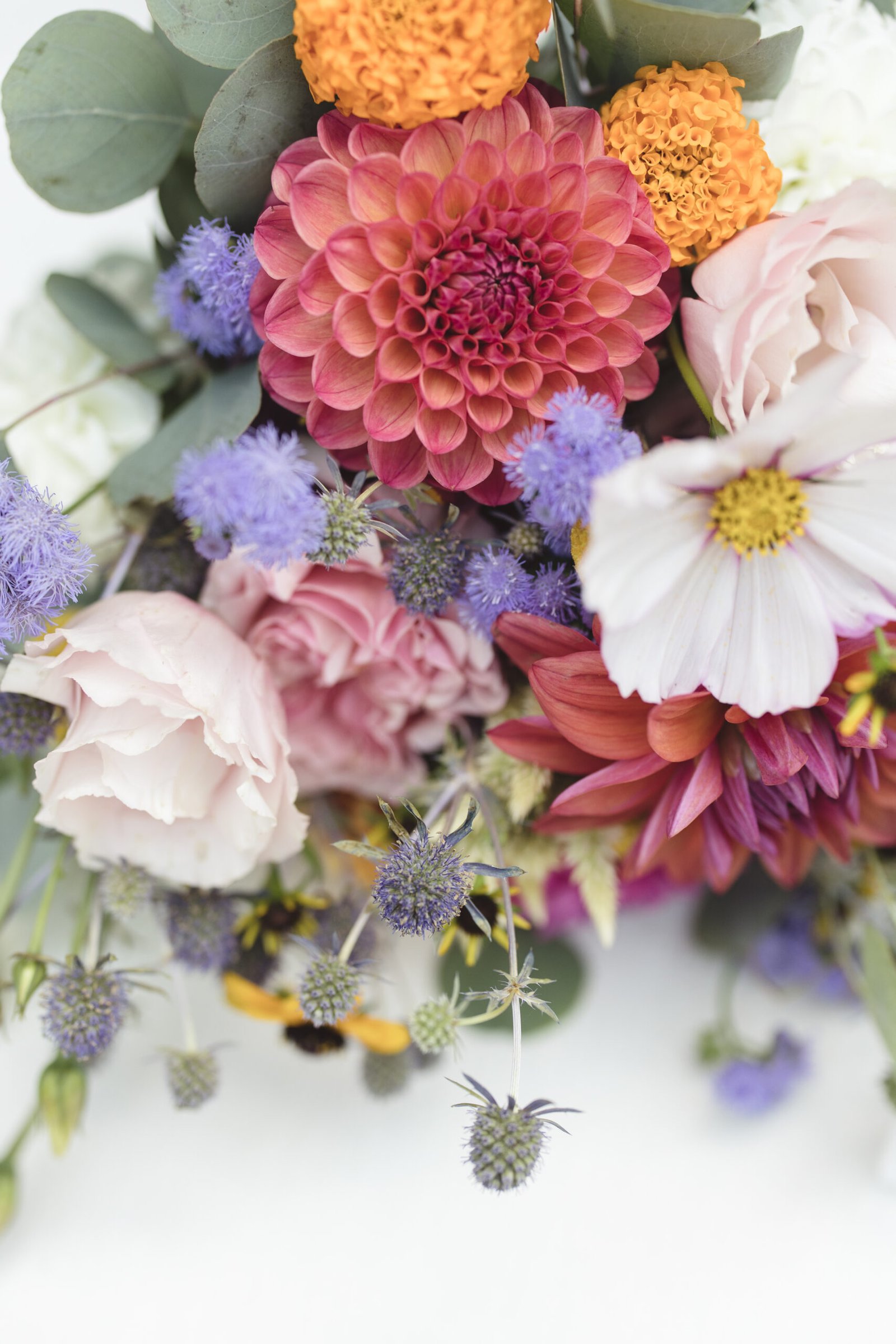 The prices in this guide are intended to give potential clients an idea of how much to budget for full-service wedding florals. I offer 2 basic services:
full-service wedding florals, which typically involve multiple personal pieces, centerpieces, and ceremony design and installation, as well as travel, setup and strike after the party is over; and
DIY florals, which can involve some personal pieces (like bouquets and boutonnieres) as well as buckets of flowers so the couple and their friends and family can style the space, and which couples typically pick up from the farm ahead of the event.
This guide is for FULL SERVICE wedding florals. If you are interested in a DIY Floral options, click here: DIY Flowers.
A few important things to note:
I use primarily farm-grown (either by me or other local growers), seasonal blooms. I am happy to work with your color scheme but there is always an element of 'designers' choice' in all of my floral work. I am no longer doing weddings that require lots of foliage I have to source from around the world (foliage garlands, for example.) I will buy in flowers if I need to but the goal is always local, seasonal, and garden or farm inspired design.
I am not the cheapest florist in the area, but I'm also not the most expensive. When comparing prices be sure to understand that each florist has their own interpretation of your vision, so if an estimate comes in much under my prices, it's likely we're not quoting the same thing, and the same goes for estimates that come in much higher.
I have no minimum spend. I will travel throughout western Massachusetts, the Berkshires, upstate New York, Connecticut, Vermont, and southern New Hampshire but I will not travel east of 495 in Massachusetts and I much prefer rural settings to urban.
In my opinion, the most important decision in choosing your wedding florals is a match to STYLE and VISION, and add in a sprinkle of communication and service. Price is obviously important, but it's not the most important. With me, you are getting seasonal, mostly locally sourced flowers in a cottage garden style. I am the designer and owner/operator. Other folks, even other farmer florists in the area, may be offering something different. You are never comparing apples to apples! Or dahlias to dahlias, for that matter.
All prices on this list are starting points. All full-service wedding proposals are created after an intial phone consultation. To read more about that process, click here.
All centerpieces and other floral pieces that use vessels are priced as if you are renting the vases/containers. If you wish to keep the containers the price will reflect this.
Passalongs Flower Farm 2024 price guide:
Personal flowers
Bridal bouquet…$200 +
Bridesmaids' bouquets: 85+
Flower crowns: $75+
Boutonnieres: $30 ea.
Corsages (pinned or wrist) and pocket squares: $40 ea.
Ceremony flowers:
Arch rental: $250 +
Arch décor: $400+
Large ceremony arrangements: $300+ ea.
Chair posies: $30 ea.
Shepherd's hooks + hanging arrangements: $40 ea.
Reception flowers:
Guest table centerpieces: $75 +
Sweetheart table flowers: $120+
Additional arrangements to style the space: $60+
Hanging foliage/flower chandeliers: $500+
Setup and delivery charges are separate; minimum is $180.
---