Looking for my pressed flower kits? For those, click here to see the shop!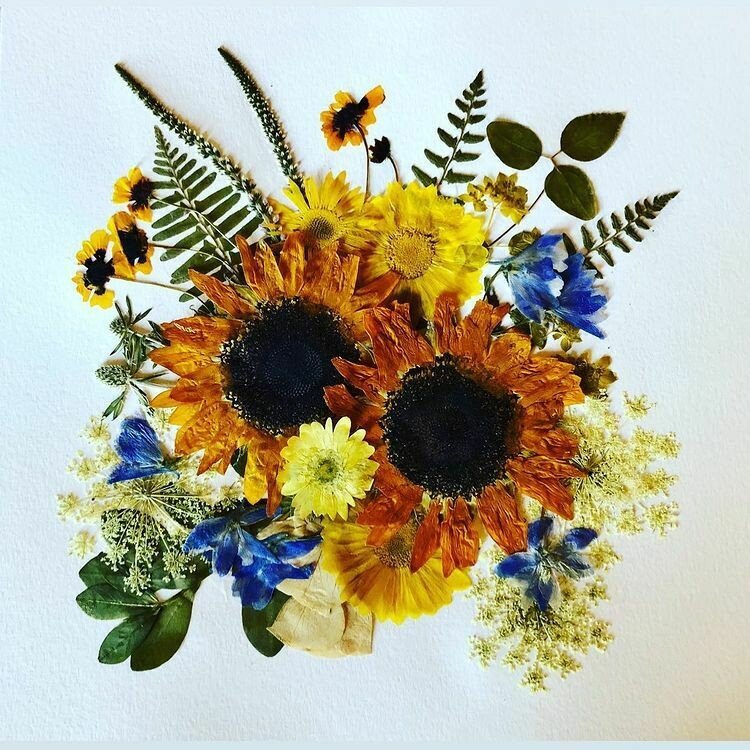 A pressed flower collage is a way to keep the memories of a special bouquet or flower piece long after the event has passed. As a flower farmer, florist, and artist I have a unique, modern perspective on this old-fashioned art. I'm excited to add this service to my floral offerings.
I can create a pressed flower collage from your actual bouquet, and I can also create a piece inspired by your wedding day bouquet!
Here's how it all goes down:
You email me to make sure the timing will work.  It's important that a) I'm here to receive your flowers and b) I have time in my schedule to process them as soon as I get them.
Once I've let you know your date will work, you place an order indicating size and framing preference (via my shop) and I send you a contract (via Docusign.) Your non-refundable deposit of $75 goes towards your piece and it puts you in my schedule. I'll email you confirmation once I receive the deposit and the contract is signed. If you have any special requests (like incorporation of your invitation or some other element this will be the time we work it out.)
A week before your wedding date I'll send you your final invoice. This will need to be paid at that time so I can complete your piece.
You get married! Yay! Congratulations! Happy day! So fun! Have a great honeymoon and an even better marriage!
Someone brings me (or mails me) your flowers as soon as possible, and no more than 3 days after you get married. If delivered in person, they need to be in a vase, in water, and have been protected from sun, wind, cold, heat, etc. The nicer condition they arrive to me the better they will look once pressed. If mailed to me, they need to be mailed overnight and they need to arrive in excellent, hydrated condition. Best is if a baggie of water is banded around the bottom of the stems and the whole bouquet is packaged carefully and securely.
When I get the flowers I will process them and prepare them to be made into custom artwork! When the collage is finished I will email you to let you know. The whole process will take 6-8 weeks from start (meaning your wedding day) to finish, possibly longer depending on my own schedule. Certain times of year I'm busier than others. I will give you a date of completion when we make our plan.
To reserve a date for your pressed flower piece please click here.
Things to know:
I will use the flowers you send me whenever possible, but I will always use my best professional judgement when it comes to which to use. Some flowers press better than others. Some might deteriorate in the pressing process. I reserve the right to use similar flowers (either those I've grown at my farm or those I've sourced) when creating your wedding bouquet keepsake.
You are giving me artistic freedom when it comes to designing the collage! You've chosen me because you like my style.
I use acid free, archival paper and artist quality matte gel to make the pressed flower collages. I do my best to create a product that will last a long time. That said, pressed flowers are natural items, and can fade and become brittle over time. The best way to care for your collage is to keep it out direct sun and to move it as little as possible.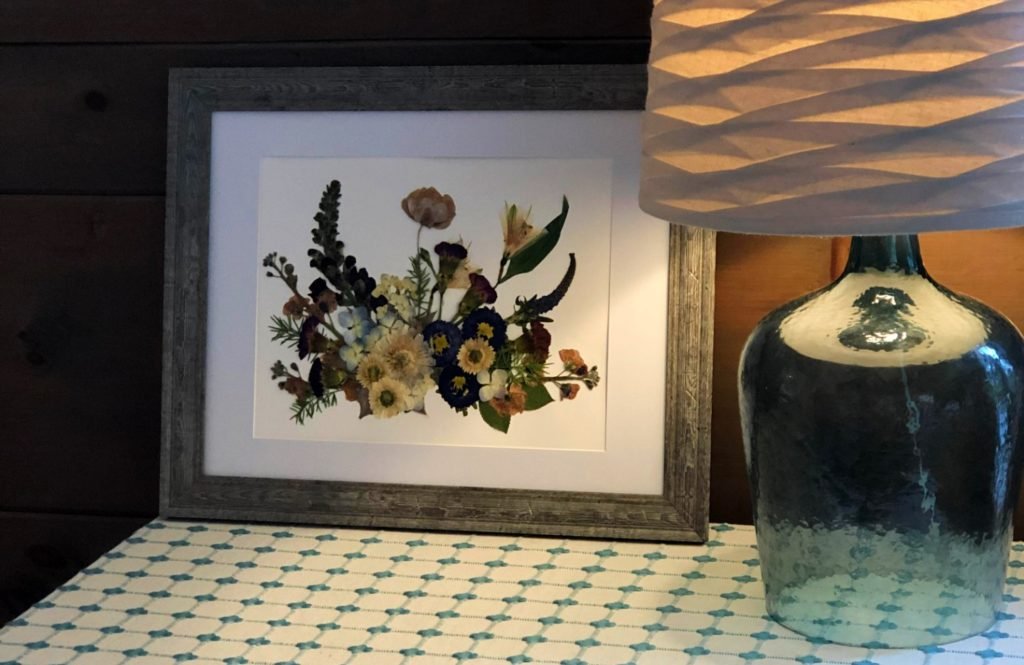 I often have pressed flower collages as well as pressed flower kits for sale in my shop! Please check out the shop and follow me on Instagram to learn about collage releases as they happen.