Orchard themed wedding at the historic Fruitlands Museum
Fruitlands is a gorgeous historical orchard in Harvard, MA, and was the site of an intentional community created by Louisa May Alcott's father and their friends in the mid 19th century. It has walking trails, gardens, lots of information and artifacts about Transcendentalism, and it's also the site of many a wedding, including Elizabeth and Herbert's very colorful affair this past August!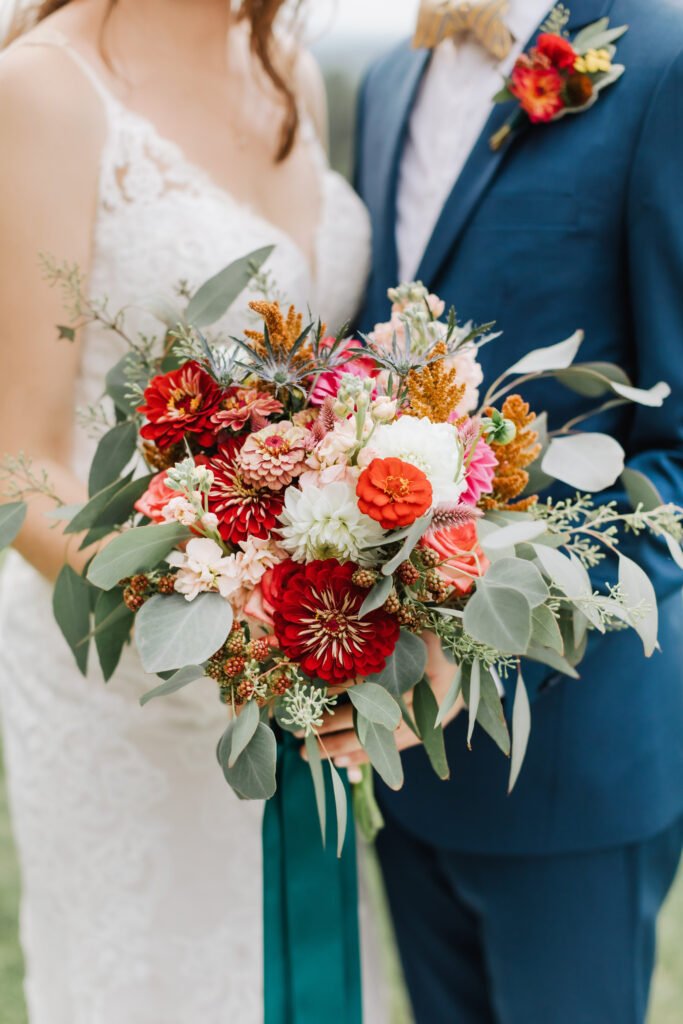 I LOVE the photos from this wedding. One reason is because Elizabeth and Herbert wanted COLOR for their flowers, and I love color. When we first talked they didn't give me a color scheme, exactly, but a list of colors they liked, which I loosely translated into "the colors of apples." They liked the idea of food – harvest – apples – and I did too! The other reason, of course, is because their wedding photographer, Lena Mirisola, is amazing. I doubt she needs my plug because I'm betting she has more business than she needs, but the images speak for themselves!  I love to meet young women who are amazing at and passionate about what they do!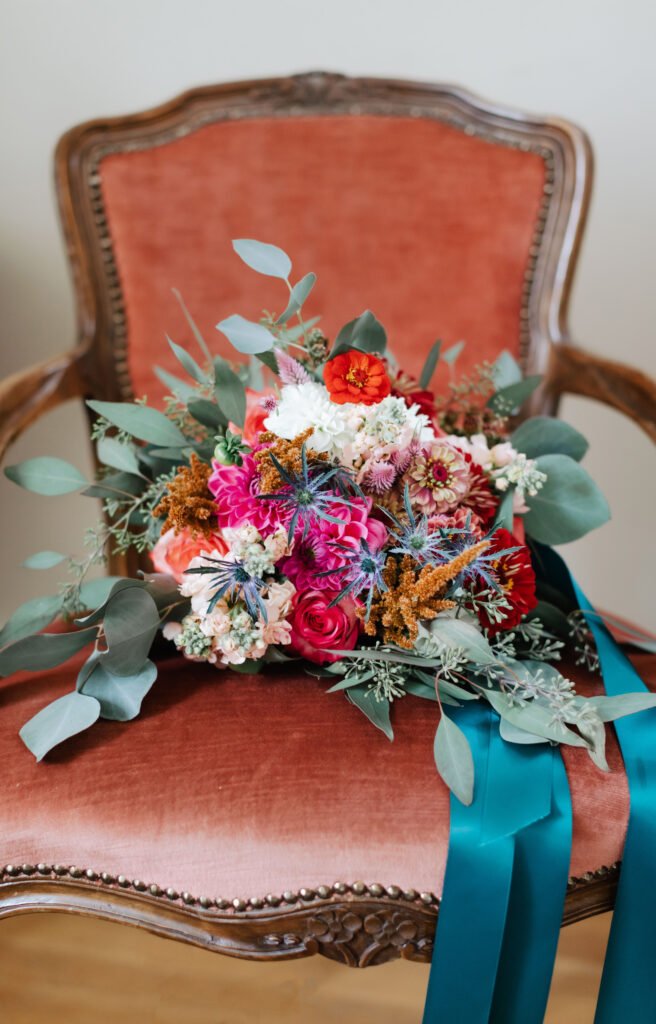 Elizabeth's bouquet featured all my farm has to offer in August. Nice fat zinnias, early dahlias, "hot biscuits" amaranth, eryngium, celosia, mixed with some eucalyptus and a couple hot pink roses – mwah. Oh – and blackberries! This picture doesn't show the blackberries that I used for texture and foliage but the first one does.
You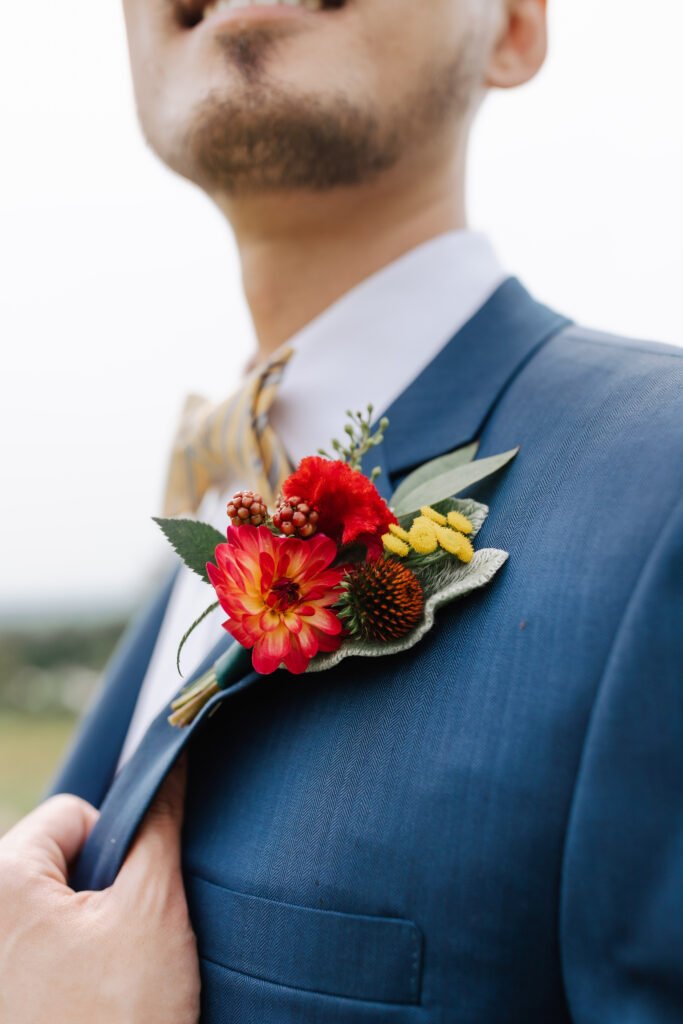 You all should know by now how much I love a cute boutonniere! Herbert wore this one well! I spy Raz-ma-taz dahlias (the cutest hot pink with pops of yellow mini dahlia ever!), celosia, tansy, and the center of an echinacea flower for color and texture. And the blackberries!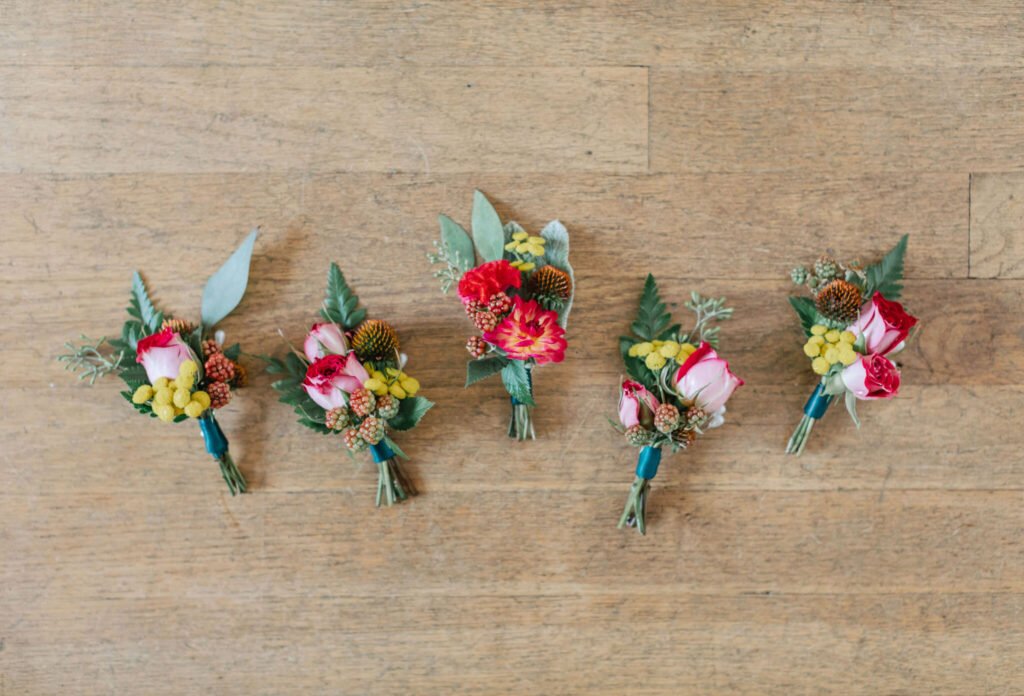 More bouts! Love them! In case you're wondering, the teal ribbon was a special request – you can see it in Elizabeth's bouquet as well. I typically either use a mossy green (to match stems) or white ribbons, but this looked really cool, don't you think! So contrasty.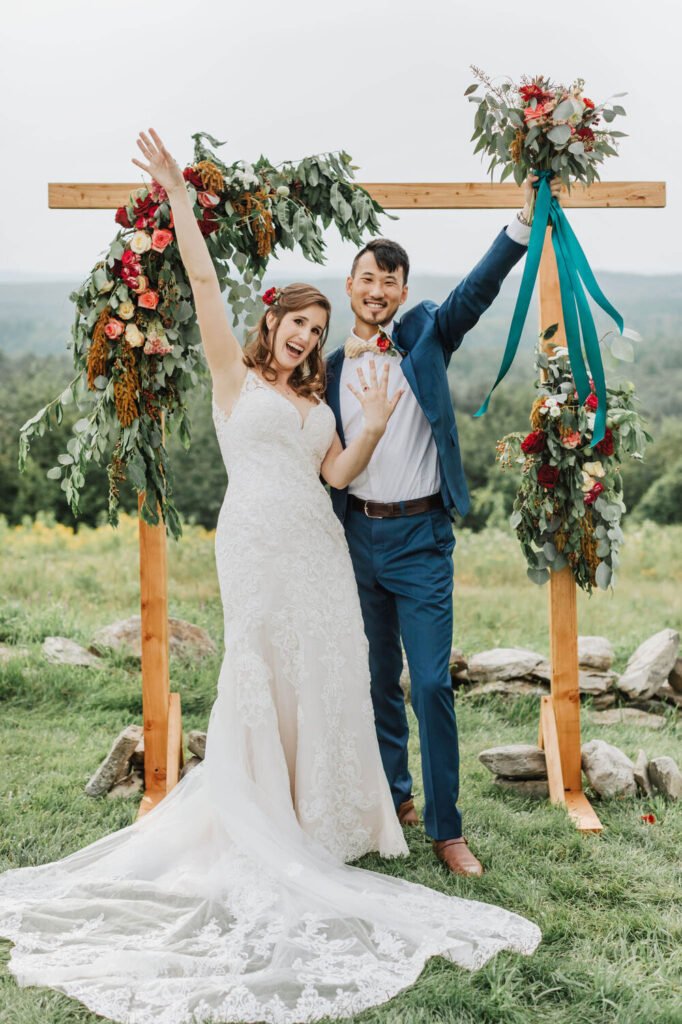 The field that Fruitlands uses for outdoor weddings has a gorgeous scenic backdrop. I love the layers on the horizon – the rock wall, the treeline, and then the rolling hills.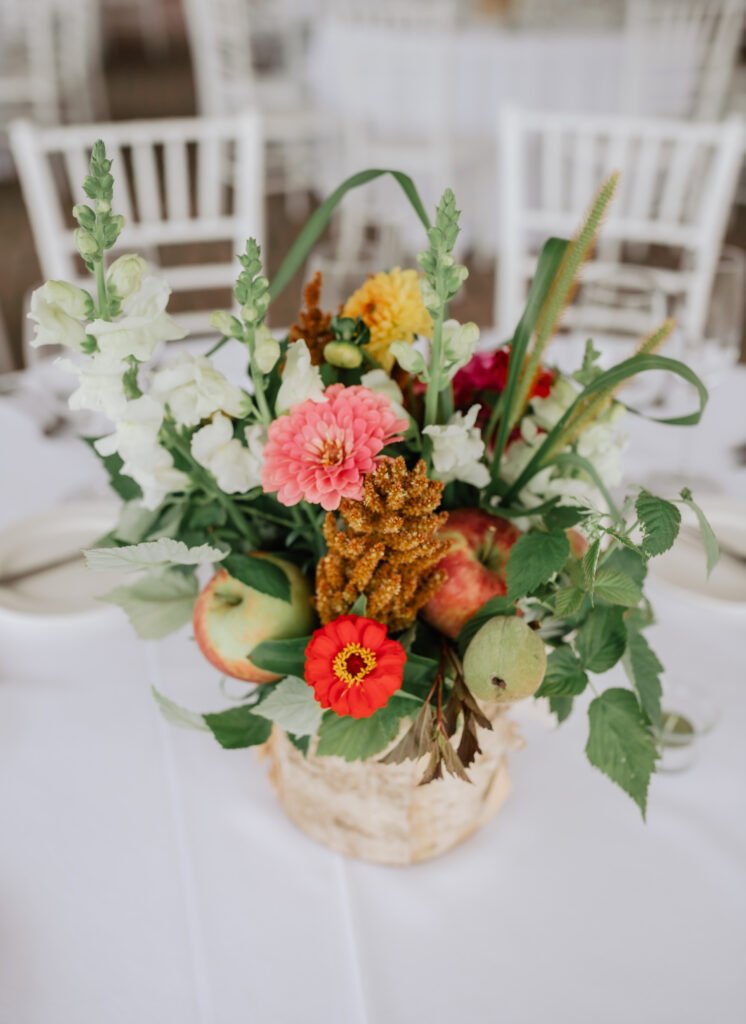 The centerpieces I made at Elizabeth and Herbert's wedding were fun! They chose birch-wrapped vases to highlight the New England vibe, and in addition to the seasonal flowers and foliage I included fruit! Local apples (from a farmstand up the road,) unripe peaches from one of my peach trees, and blackberry and raspberry foliage.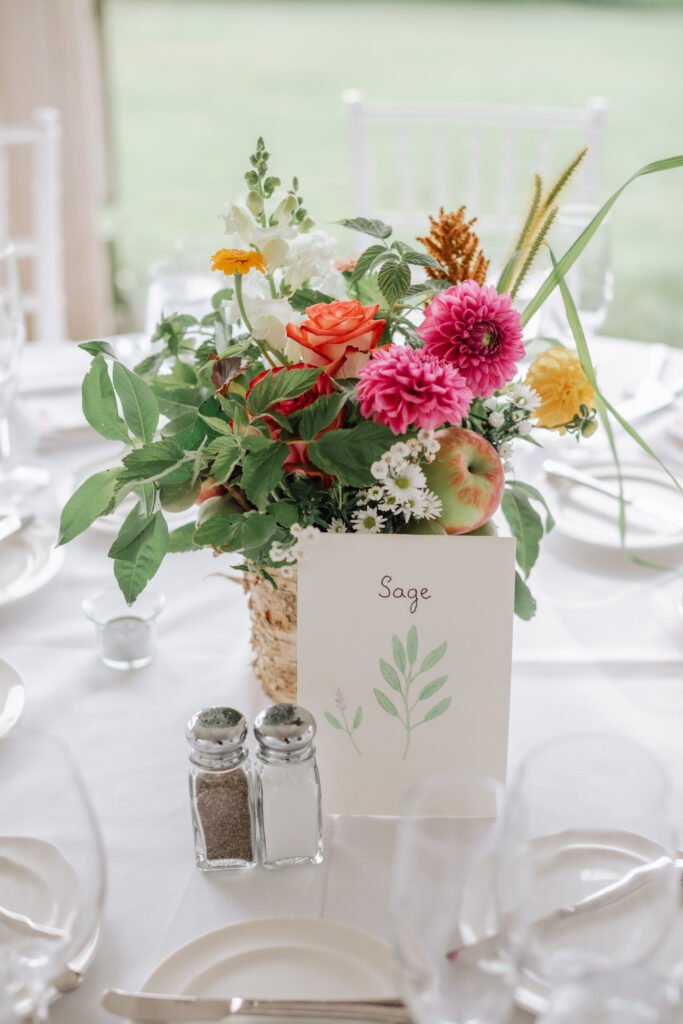 The table markers were fun – instead of numbers they used names of herbs. Love it!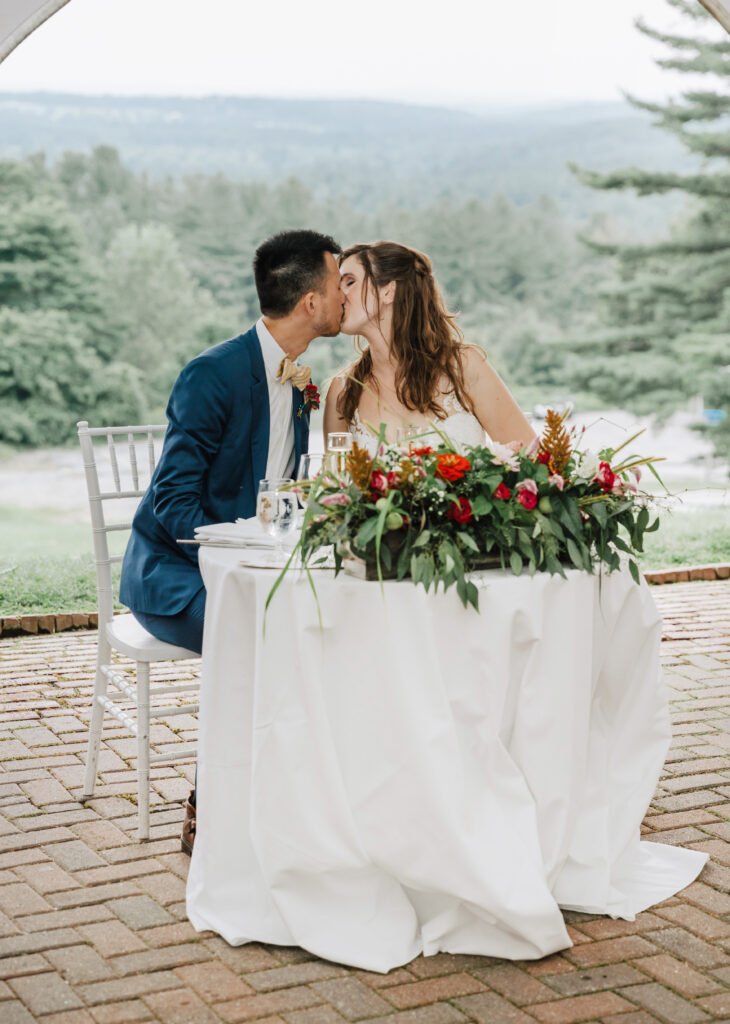 Congratulations to the happy couple! The wedding was gorgeous, but now for the best part: your marriage!
---