Sunshine-y fall flowers at a light-filled Valley View Wedding
I am not exaggerating when I say that 99% of the pictures of Colleen and Matt at their lovely fall wedding are of her laughing or smiling, and him looking at her like he's just won the lottery. Look – I appreciate all the images that I'm sent of the weddings I flower. I think: "how sweet," "how adorable," "how beautiful." But for this one I honestly teared up. I mean – to be as happy as Colleen looks and to be as adoring as Matt – this is the dream, right?
All photos of this gorgeous wedding are by Kelly F. Peterson Photography.
The location, of course, is Valley View Farm in Haydenville, MA.
Flowers are by me, and feature a color scheme I sometimes call fall pastels, or sunny fall neutrals. Or just, fall but not orange-orange.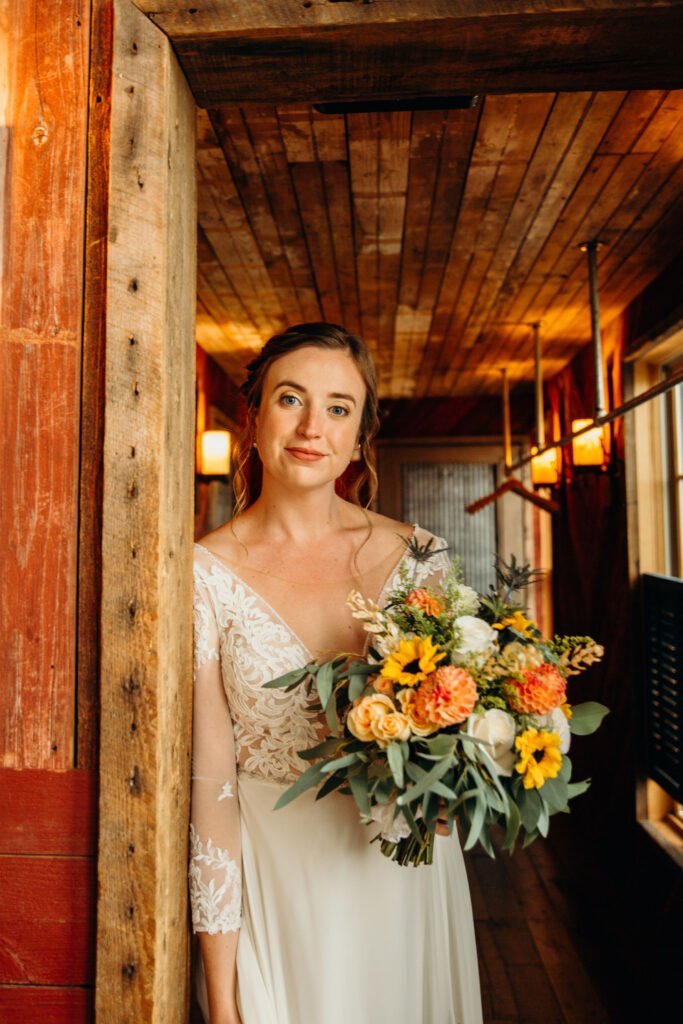 Here's one of the only pictures where Colleen isn't laughing! Probably because Matt's not in it! Here's what was requested for the wedding flowers, starting with her bouquet:  rustic, simple, and neutral, seasonal colors, including dried flowers, but not too bright. Nailed it! Colleen's bouquet included dahlias, sunflowers, roses, goldenrod, eucalyptus, eryngium, and dried thlaspi, or pennycress.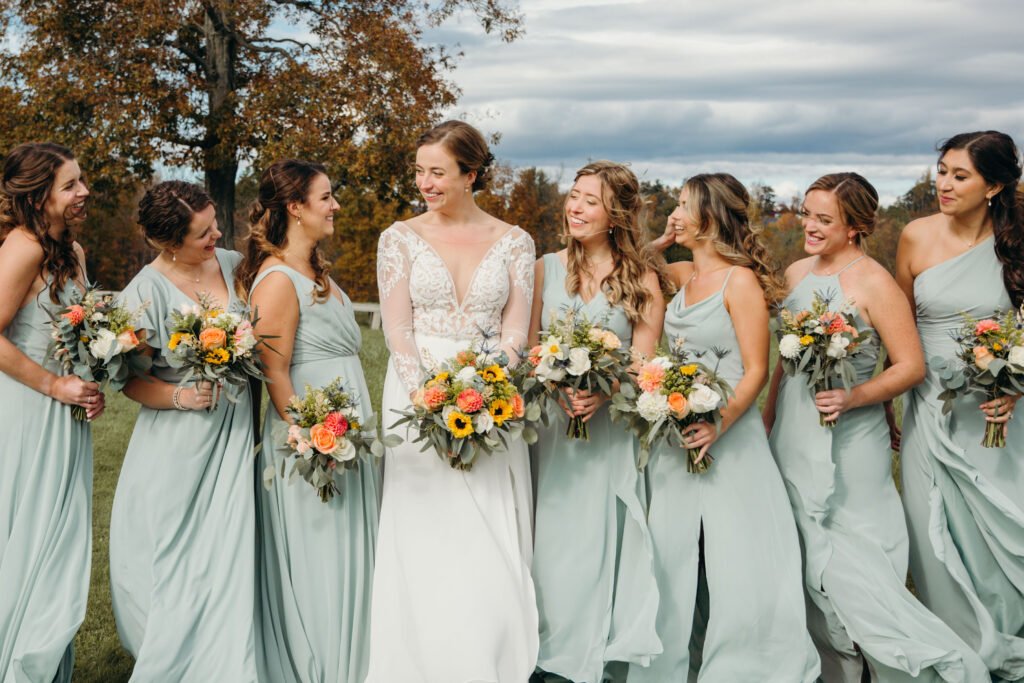 Prospective couples often ask me the difference between the bride's bouquet and the bridesmaids' or groomsmaids' bouquets and I think this picture shows the contrast well. First – know that you can do whatever you want for your attendants. Same colors, different colors, no colors – whatever. I always defer to your vision. That said, this is what MOST of my clients decide: attendant bouquets that are similar to the bride's, but smaller and simpler. So while the bridal bouquet may have 20-25 main flowers, attendant bouquets may have half that. I also try to make the attendant bouquets somewhat similar, but I happen to think a benefit of working with a grower is that I can work with lots of variety, so no two are ever really the same.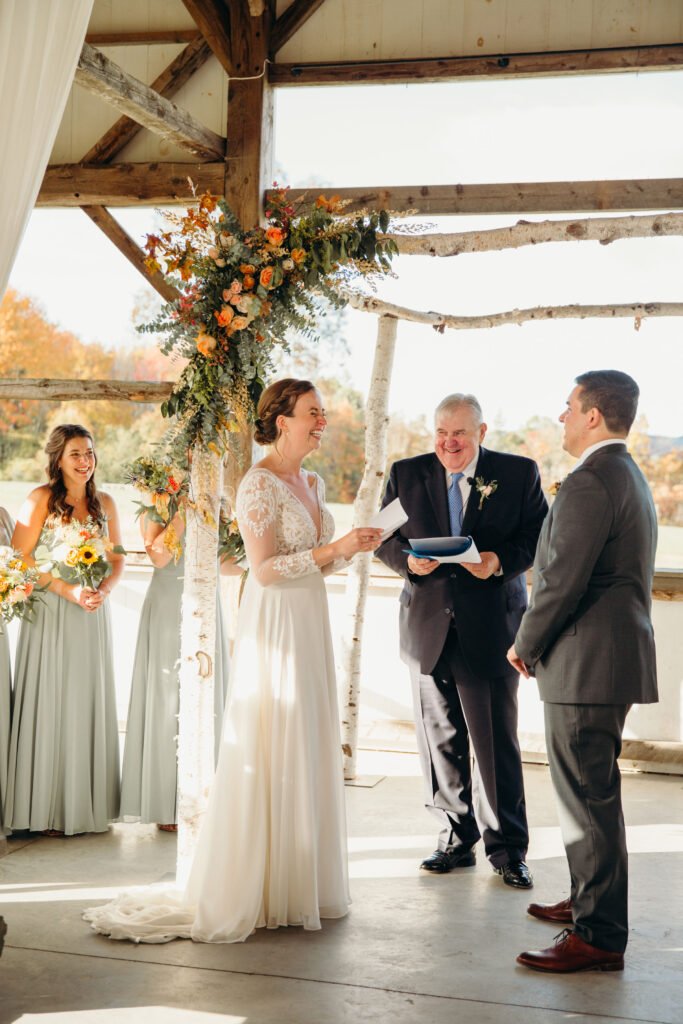 See what I mean? More laughing, more adoring looks!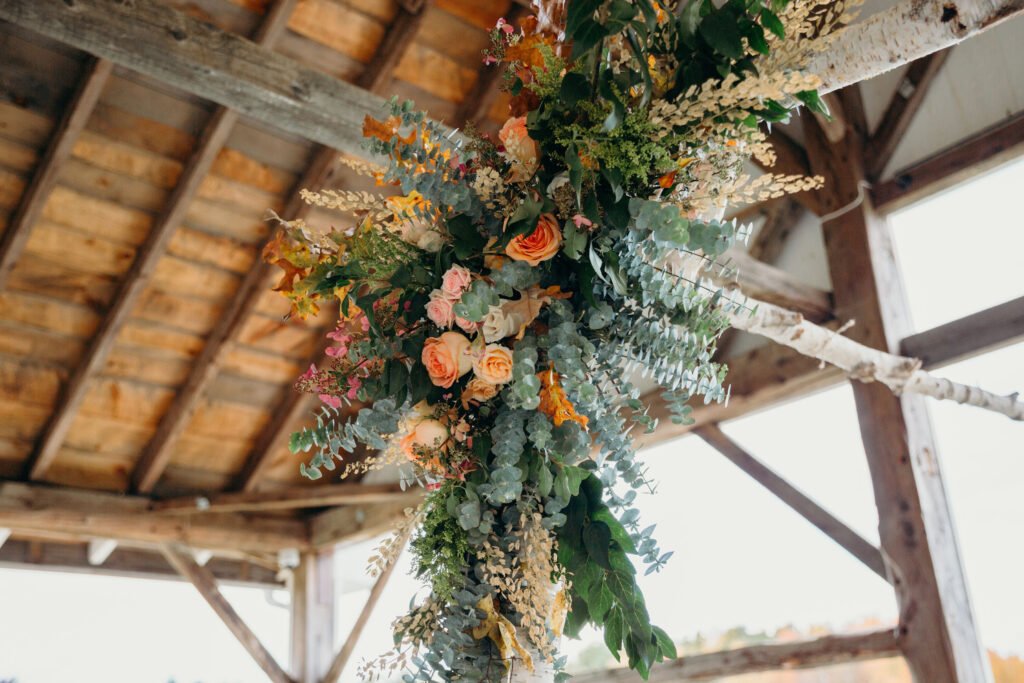 The arch installation was fun to make because it was a whole lot of texture, including dried thlaspi (pennycress), a fantastic early foliage that I grow here at Passalongs. It actually grows itself – seldom coming up where I put it and pretty much coming up anywhere I haven't. I've learned to go with it.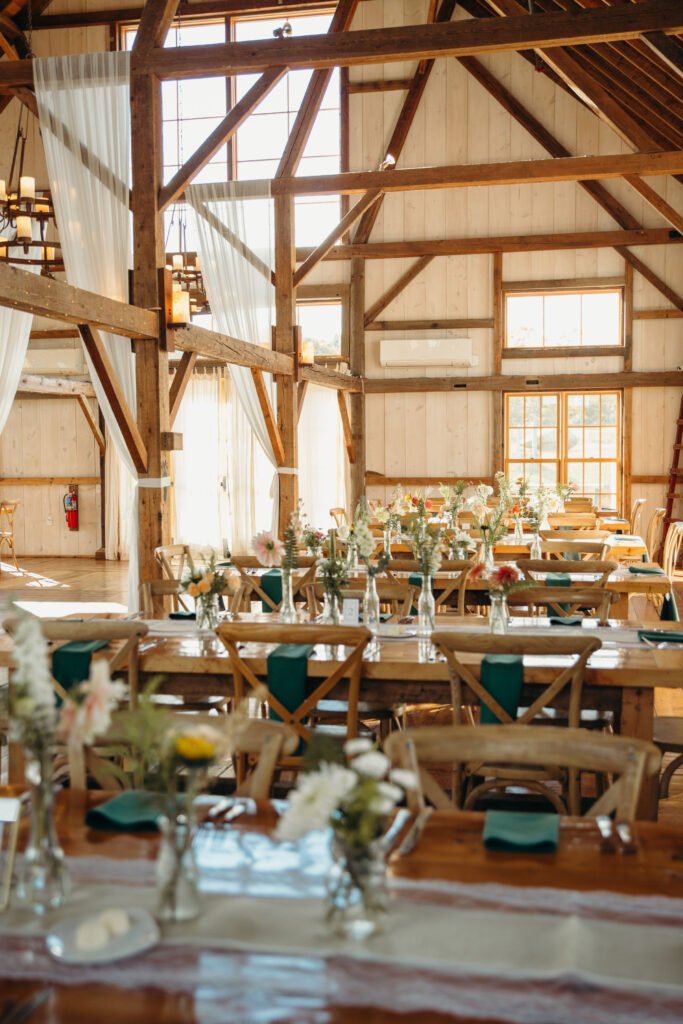 This is a great view of the beautiful barn tables at Valley View, decorated with a centerpiece I call, for lack of a better description: the "eclectic vase" centerpiece. It's a really pretty, effective, somewhat casual but easily dressed up and afforable centerpiece option for the amazing wooden barn tables at Valley View Farm. I've mentioned this in previous blog posts, but as a grower I especially like this centerpiece because I can use all the funky bits and bobs I have growing, no matter stem length or size of bloom. Each one is different, but the whole is very harmonious.
I spy a Breakout dahlia, orange spray heirloom chrysanthemums, goldenrod, dried millet, fern, an Apple Blossom dahlia, and the list goes on.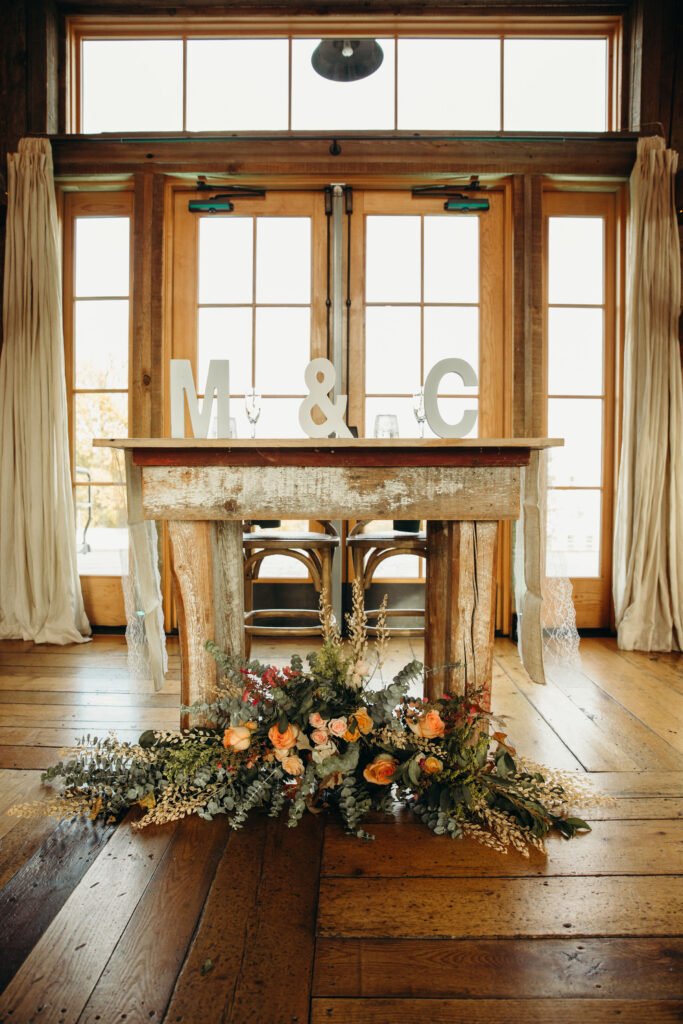 After the ceremony, the staff at Valley View took down the arch installation and put it at the foot of the sweetheart table. I think it looks amazing! I create arch installations on site and I don't make them so they'll look any special way if moved, but I find that event folks are experts at doing this sort of thing.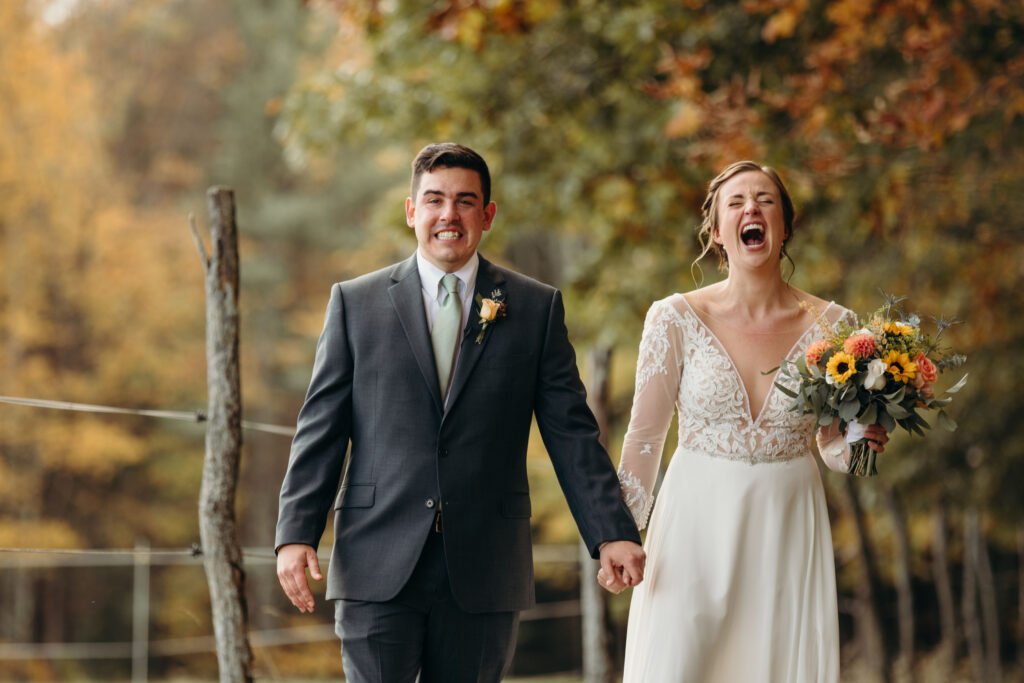 Congratulations to the happy couple! The wedding was gorgeous, but now for the best part: your marriage!
---