BIG FAT Winter Wreath Workshops at Passalongs Farm
Come on over (and bring a friend), and create your own BIG FAT WINTER WREATH at Passalongs Farm!
Click to buy tickets:
Sunday, Dec. 1, 10-11:30
Sunday, Dec. 1, 3-4:30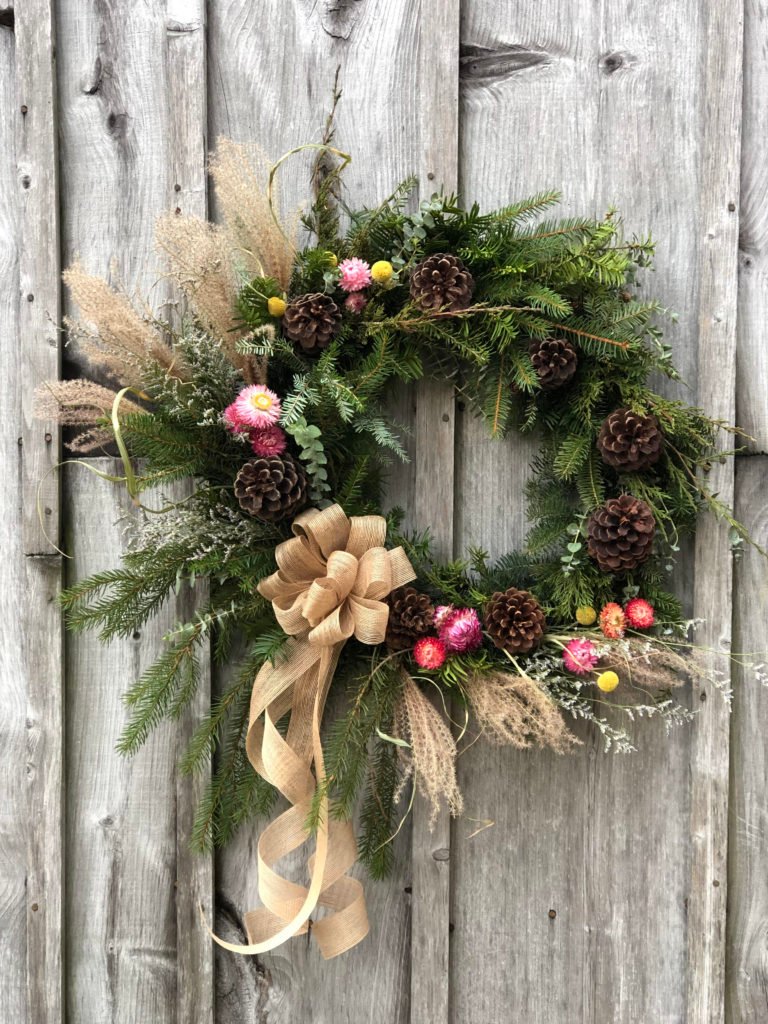 Sunday Dec. 8, 3-4:30
8 people maximum in studio!
For private parties, contact me: passalongsfarm@gmail.com
Passalongs Farm is very excited to offer this fun, relaxed, seasonal and simple wreath making workshop! Please join me in my heated studio (ca. 2019!) for snacks, warm drinks, fun music, and all the bibs and bobs you'll need to make big fat winter wreaths!
Here's the deal:
I will provide a simple, plain, pre-made (by me!) evergreen wreath on a reusable metal frame, give a quick tutorial for ideas and assembly, and then you will decorate the wreath however you want! Add more greens to make it nice and fat! Add some cool dried elements, like wheat or corn tassels or local grasses. Maybe you like the pop of red that winterberry brings, or the color of dried flowers, or the fullness of hydrangea, or some funky branches, or glittery bling (because who doesn't like glittery bling)?  And of course, you'll want to add a seasonal ribbon of your choice.
Everything – extra evergreens, dried elements, ribbons, botanicals, and bling –  including snacks and some lovely warm drinks – is included.
All evergreens are sourced from our family farm and woodlot in Southampton, dried and other botanical elements from the farm or left over from summer events, and all glittery bling from thrifty shopping and crafty making!